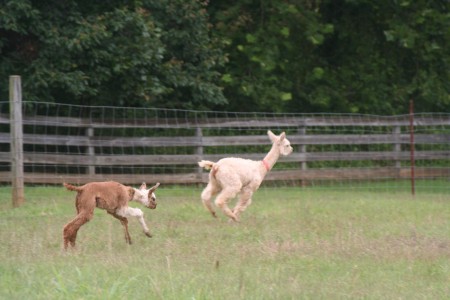 Happy New Year to all our friends, family and animals. Despite the super cold temperatures, 7 degrees this morning, which is very unusual for Virgina, I can feel Spring is in the air. The hay fields are already a lush green, the roosters are getting ready and the Alpacas are pronking in the fields. For the uninitiated, pronking is what Alpacas do when they are happy. They race across the fields bouncing and kicking their heels in the air.
The funniest are the cria races. We can't wait for all the babies to be born in the Spring. We took a year out from breeding last year to change the seasons so we only had 2 (although Blackberry is the sweetest little guy ever and Who's Your Daddy is a beauty).
Yesterday was loads of fun. Ed and Tom were off picking up hay so I was farm girl. The young girls decided it was time to break out into the boys field. Fortunately, all my little boys were munching down in the barn so I caught them easily. Unfortunately, Joe, a very experienced male was out in their field. He has been losing weight again so we brought him up to the barn to give him extra feed and put his coat on at night. He didn't waste any time picking out the most mature of the young girls, Muriel, who is a beauty. Luckily, she was rather taken aback by his attentions so she didn't cush for him. Thank goodness I had my phone, I called Ed who called our neighbor, Doug Hawk, who arrives 3 mins later. I love living here, where else can you find such wonderful neighbors. Between us, we managed to catch up the girls, push Joe into the Big Boys pasture. We let the girls out again and they soon found their way back to the feeder.