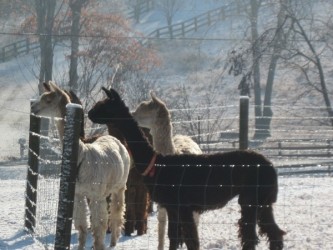 Suri Downs Farm was formed in 2006 by N.Edward Fincher with the support of his wife Amanda.
A chance encounter with a newspaper article on the joys of Alpaca ownership led to a meeting with Cindy Harris of Alpacas at Windy Hills, and the rest is history. Cindy Harris and her husband Doug Fieg, were incredible mentors to us and we will also be grateful to them for getting us off to such a tremendous start in the business.
5 years later we moved to our new farm in Maidens, VA where we are in partnership with Teri Phipps, Fireweed Farms.
Over the years we have created an incredible foundation herd which include the bloodlines of PPeruvian Torbio,PPervuian Uribe (NGG Acoyo Apache 11) PPeruvian Inca, PPeruvian Fuego (Mahogany Prince, Kobe, Diamonte), Maguyver, PPeruvian Inca, PPeruvian Amador (Pacura Kuhuna) amongst others.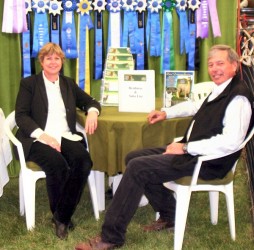 We specialize in color; true black, bay black, browns and fawns. We are strong believers in using the Accoyo line to strengthen the genetics while still achieving color. Zepharina and Torbio's Tempest, our Torbio babies, are dark brown and light fawn respectively.
Our herdsire, Lumiere (a Torbio son) is following in his father's footsteps and is throwing colored animals with superior lock and fineness.
Ed recently retired from the motion picture business where he worked for 30 years as a costumer. His primary interest is in developing outlets for products manufactured from Alpaca Fibre. Amanda continues to work as a publicist on feature films which takes her all over the world where she also spreads the word about the joys of owning Alpacas. She handles the marketing side of the business and is particularly interested in the breeding.